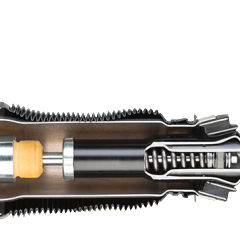 UPDATE: Bilstien has doubled the price of their airsprings!
How can I tell if my air springs are leaking? Why is my air suspension on bump stops?  These are common question on many Range Rover forums.   To make this post get to the point the most common failure for RR air suspension will be the front airsprings. The struts are not controlled by the air suspension, but dampen the air bags which replace regular springs.  Adaptive Dynamic struts are also not controlled by air but by ferromagnetic fluid and a computer which controls the viscosity of the fluid via magnetic field.
REPLACE BOTH OF YOUR FRONT AIRSPRINGS
If you suddenly find your truck on bump stops it, is almost assuredly one of the two front airsprings went.  "but the whole car is on bump stops"  The computer will lower all four corners to bump stops once it has found an airspring leaking, although sometimes just the front or rear will drop.
DON'T CONTINUE TO USE YOUR AIR SUSPENSION UNTIL THE SPRINGS ARE FIXED
There is a whole bunch of wallet hurt if you try to raise an airsuspension that is leaking because the air compressor wasn't built for that and it might throw a hard code that only special LR focused computers can clear — autozone won't help you here… In short if you try to raise your truck and hear some clanking in the back it is the air compressor killing itself.
WHERE DO I GET THE PARTS, CHEAPLY
Read More