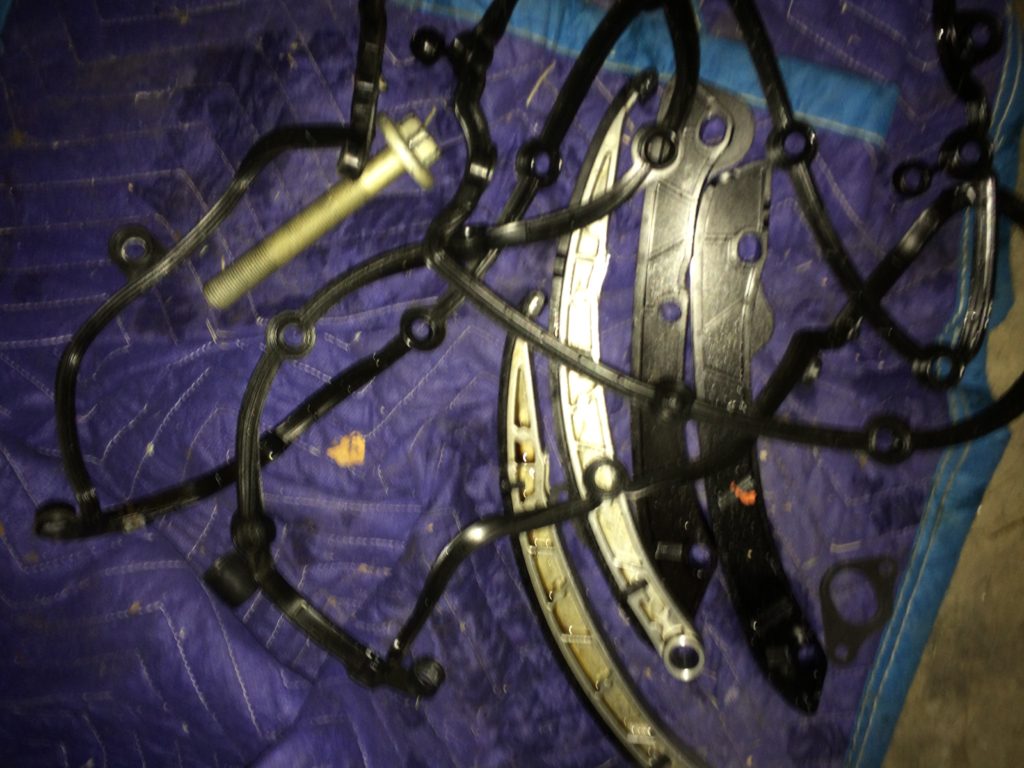 The Jaguar Land Rover Range Rover has had the timing chain tensioners redesigned and have had reported issues with the timing chain tensioners on various forums including rangerovers.net "timing chain shot at 44k?" and on JaguarForums.com.  This issue happened to me, immediately proceeding I was in a parking lot in wal-mart.  When I got back in the car was much louder especially at idle.  I knew something was wrong.  I drove her home and began to look up how to take care of her.  After getting a few quotes around 8-12 hours and 2500 from independents (did not include a new chain and retiming) and over "7,000 dollars" from Land Rover Flat Irons.  I took to the internet and decided to look for Land Rover mechanics to hire directly to fix the car in my garage.
The Timing Chain Tensioners are a new style with new guides, however, I would also recommend replacing the opposing side guides which are static and made out of plastic (pictured above).  Mine made it to 88,000 miles and less than 6 years before the failure of the timing chains.  The first set of tensioners didn't deploy so I had to buy a second set and return the first.
It took a while to get her back on the road, as we retimed her 3 times and I still have a P0366 to tackle.  We also put in a solid supercharger coupler and new nose drive bearings as well.  I also took this opportunity to put in a new water pump which have been reported to fail on these too.  I went with an aftermarket unit and found that the previous work on the water pump the tech stripped the threading so Brandon re-drilled and tapped it.
It costs about $3500 to do the work by hiring a mechanic to do it directly however, many prayers were needed and lots of faith over 3 months of not having her.   In the middle of retiming her on multiple occasions praying to Jesus provided comfort and rest versus restlessness.